A cardiac arrest is when your heart suddenly stops pumping blood round your body, because of a disruption in the electrical signals in your heart. If your heart stops pumping blood around your body your brain becomes starved of oxygen causing you to become unconscious and stop breathing.
In the UK alone, there are over 30,000 Cardiac arrests occurring outside of hospital each year. Studies have shown that if someone has a Cardiac Arrest in the Community with no defibrillator immediately available, there is only a 6% chance of them surviving; even if someone is performing great CPR on them. However, if a defibrillator is used within the first 3 minutes of someone stopping breathing, their chances of survival jumps from 6% to a staggering 74% with a 10% reduction in survival rate for every minute of delay.
Automatic, External Defibrillators (AED) are now widely available; located at many train and tube stations, shopping centres, dentists and GP Practices, sports grounds, leisure centres and offices. However, people do not always know where to find them and are often scared to deploy them – Read our article on common myths about defibrillators
The Karolinska Institute in Sweden are currently tested a drone which could deliver defibrillators to the scene of a casualty having a cardiac arrest. They can also remotely talk people through how to use them. Their research suggests that these drones could arrive at a destination up to four times faster than an ambulance, saving valuable time and increasing their chance of survival.
How to help someone having a heart attack:
If you think someone might be having a Heart Attack, stay as calm as you can and encourage them to sit down. It will be easier for them to breathe if they remain upright and so you should support them in a comfortable position. Placing something under their knees can help their circulation.
If they have been prescribed a GTN spray, they should use this now and if they are suffering an angina attack (rather than a heart attack) this should help.
If the GTN does not help and they have been prescribed a 300mg Aspirin tablet, they should chew this.
Remain calm and reassuring around the casualty, but phone for an ambulance and if there is a defibrillator available get it now and discretely have it ready to use immediately if they  lose consciousness and stop breathing.
If they become unconscious and not breathing, phone an ambulance and start CPR – pushing hard and fast on the centre of the casualty's chest – see the flow chart below. Deploy the defibrillator as soon as possible.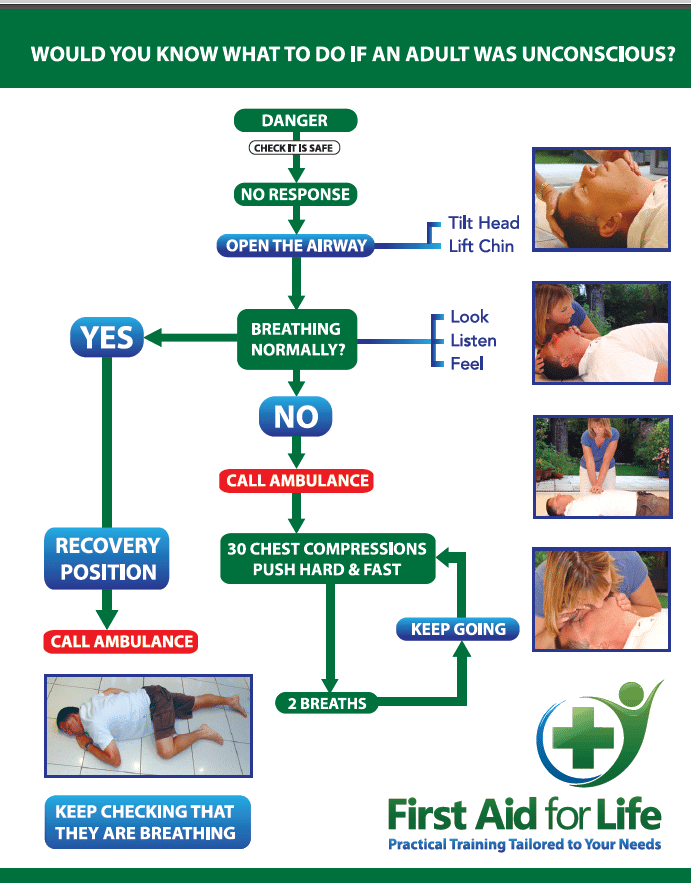 If you have a defibrillator available; open it up and it will start talking to you. Dry the casualty's chest and position the pads as illustrated on the pads themselves. Ideally someone should be doing CPR whilst another person is putting the pads onto the casualty's chest and concentrating on the defibrillator. Keep going (listen to and observe the prompts from the machine) and do not stop until the paramedic is there and ready to take over or the casualty begins to regain consciousness.
If you would like to have more information about how to care for older people, we can suggest you this article.
It is strongly advised that you attend a Practical or online First Aid course to understand what to do in a medical emergency. Please visit firstaidforlife.org.uk emma@firstaidforlife.org.uk or tel 0208 675 4036 for more information about our courses.
First Aid for life provides this information for guidance and it is not in any way a substitute for medical advice. First Aid for Life is not responsible or liable for any diagnosis made, or actions taken based on this information.
Emma Hammett, First Aid for Life
Tel: 0208 675 4036      www.firstaidforlife.org.uk
First Aid for Life is an award winning First Aid training business that is HSE and Ofqual Approved through Qualsafe Awards. Our trainers are medical and emergency services professionals and our training is tailored to your needs
We have great defibrillators available at really good prices – please email for more information